---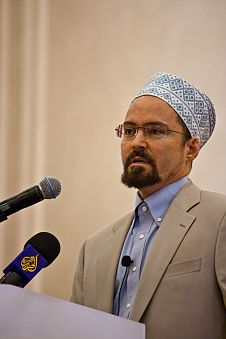 Hamza Yusuf Hanson
Teacher and Co-founder of Zaytuna College, USA
Sheikh Hamza Yusuf Hanson is one of the most influential Islamic figures in the Western world. He is seen as one of the foremost authorities on Islam outside of the Muslim world. He is a co-founder of the Zaytuna College in Berkeley, California, the first and only accredited Muslim liberal arts college in the USA.
Birth: 1 January 1960 (Age: 57)
Source of Influence: Scholarly
Influence: Scholarly
School of Thought: Sunni, Traditional Sunni, Maliki, Ash'ari
Status: Featured in current year
Islamic Scholar: Sheikh Hamza Yusuf Hanson converted to Islam in 1977 when he was only 17 and spent many years studying Arabic, Islamic jurisprudence and philosophy with some of the Muslim world's most prominent and well-respected teachers. His popularity, and accordingly his influence, stem from his application of Islamic knowledge being rooted in the lived experience of modern, western society. His controversial Reviving the Islamic Spirit conference speech in 2016 which critiqued aspects of the Black Lives Matter movement sparked an intra-Muslim dialogue on the racial struggle in America.
Speaker and Educator: Sheikh Hamza is a much sought after speaker. He has given thousands of lectures to public audiences and is interviewed regularly by the media. He spreads traditional Sunni orthodoxy in the West through his popular speeches and his teaching at short intense study programmes such as Deen Intensive, Rihla and RIS.
Advisor: He advises on Islamic Studies to several US universities, and is also on the board of advisors of George Russell's One Nation, a national philanthropic initiative that promotes pluralism and inclusion in America.