---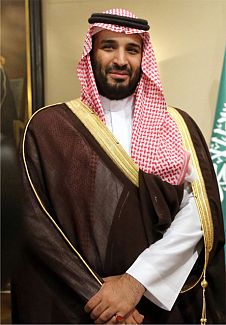 Muhammad bin Salman bin Abdul-Aziz Al-Saud
HRH Crown Prince Muhammad bin Salman Al-Saud is the Crown Prince of Saudi Arabia, Chief of the Royal Court, Minister of State, First Deputy Prime Minister and Minister of Defence, all at the tender age of 32, making him the youngest Minister of Defence in the world.
Birth: 31 August 1985 (Age: 32)
Source of Influence:
Influence: Crown Prince of Saudi Arabia
School of Thought: Sunni, Salafi, Moderate Salafi
Status: Featured in current year
Rapid Appointments: At the beginning of 2015, Prince Muhammad bin Salman was largely unknown in political and diplomatic circles. Since his father's accession to the throne in January 2015, Prince Muhammad has been swiftly appointed to a number of powerful positions. He was first, on 23 January, appointed Minister of Defence, and also named Secretary General of the Royal Court. Then, on 29 January, Prince Muhammad was named the chair of the Council for Economic and Development Affairs, and was given control over Saudi Aramco by royal decree. In June 2017, he was appointed as Crown Prince of the Kingdom following his father's decision to remove Prince Muhammad bin Nayef from all positions.
Military Challenges: As Minister of Defence the young prince has to deal with many key military issues which Saudi Arabia is currently involved in. He is perhaps most personally identified with the air campaigns against Houthi strongholds in Yemen. Saudi Arabia is also backing the international coalition against DA'ISH in Iraq and Syria, supporting the monarchy in Bahrain, and arming the anti-Assad forces in Syria. His ascension to the role of Crown Prince coincided with geopolitical tensions among members of the Gulf Cooperation Council and the cutting of diplomatic ties with Qatar in the summer of 2017.
Charity Work and Youth Development: Before his recent promotions, Prince Muhammad bin Salman was known as the founder and chairman of the 'Misk Foundation', a charitable initiative seeking to bolster creativity, innovation and talent in Saudi youths in the fields of science, arts and technology. He also heads the King Salman Youth Centre. These experiences, and his own age, have made him popular amongst the youth (70% of the Saudi population is under 30).
Vision 2030: As Chairman of the Council of Economic and Development Affairs, Crown Prince Muhammad bin Salman launched "Vision 2030", a comprehensive, multi-year plan for the future of Saudi Arabia. The ambitious plan seeks to revitalize the Saudi economy by bolstering the Kingdom as a global investments powerhouse, and moving away from oil-dependency as the largest source of national income. It also seeks to strengthen government efficiency and the promotion of a "tolerant, thriving, and stable Saudi Arabia that provides opportunity for all."