---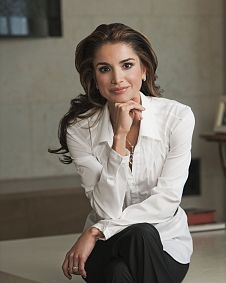 Rania Al-Abdullah
Queen of the Hashemite Kingdom of Jordan
Her Majesty Queen Rania Al-Abdullah is the wife of HM King Abdullah II, but is also in her own right an educational activist with global appeal. Through sheer hard work, she has developed the biggest virtual following of any Muslim in the world, and she defends and humanizes Islam and Arab causes in-and to-the West as effectively as any Muslim scholar in the world.
Birth: 31 August 1970 (Age: 47)
Source of Influence: Media, Philanthropy, Charity & Development, Social Issues
Influence: Media, Philanthropy, Charity & Development, Social Issues
School of Thought: Sunni, Modernist Sunni
Status: Featured in current year
Educational Ambassador: HM Queen Rania is the initiator and key leader behind the launch of several educational initiatives such as the Jordanian Madrasati, 'My School', a project for the development of Jordan's public school system. She is also the co-founder and global chair of the '1 Goal: Education For All' campaign which calls for the complete primary schooling of all boys and girls in the world by 2015. She attends high-level meetings (Davos, WEF etc) to promote her vision of education for all.
Intercultural Dialogue: In April 2010, Queen Rania launched her children's book 'The Sandwich Swap' (which made the New York Times bestseller list) through the United Nations Bookshop in an initiative to promote cross-cultural understanding among youth. In 2017, Queen Rania received the Global Trailblazer Award and the Fellowship Award from "Fashion for Relief" in Recognition of her humanitarian efforts towards children caught in conflict.
Online Presence: Queen Rania embraced the new technologies early on and wholeheartedly. She has an amazingly popular YouTube channel with over 15 million views and a very popular website (www.queenrania.jo). She also has 8 million followers on Twitter and nearly 14 million likes on Facebook.