---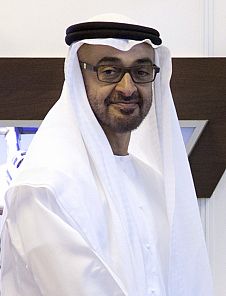 Mohammed bin Zayed Al-Nahyan
Crown Prince of Abu Dhabi and Deputy Supreme Commander of the UAE Armed Forces
Sheikh Mohammed bin Zayed Al-Nahyan is the Crown Prince of Abu Dhabi and Deputy Supreme Commander of the UAE Armed Forces, as well as next in line to be President of the United Arab Emirates. The UAE is increasingly becoming an important centre for global weapons trading, with Abu Dhabi host to one of the world's largest defence expos.
Birth: 3 October 1961 (Age: 56)
Source of Influence: Philanthropy, Charity & Development, Political
Influence: Military and political leadership
School of Thought: Sunni, Traditional Sunni
Status: Featured in current year
Political and Military Leadership: Sheikh Mohammed is chairman of the Abu Dhabi Executive Council—an executive leadership body in Abu Dhabi, which is constantly engaged in the assessment of public policy. Since becoming Crown Prince in 2004, Sheikh Mohammed has been recognized for his groundbreaking initiatives as an influential leader of Abu Dhabi.As Deputy Supreme Commander of the armed forces, Sheikh Mohammed's directives were central to the Arab coalition military campaigns against Houthi strongholds in Yemen. He is a special advisor to UAE President HH Sheikh Khalifa bin Zayed Al-Nahyan.
Economic Development: With Abu Dhabi sitting on the 10th of the world's proven oil reserves, Sheikh Mohammed bin Zayed Al-Nahyan maintains immense political influence in the Muslim World as a leading member of the Abu Dhabi National Oil Company—which directs development efforts for the UAE's role in the oil and gas industries. Sheikh Mohammed is chairman of the Abu Dhabi Council for Economic Development (ADCED), which has been developing initiatives to boost entrepreneurship among youth in the UAE.
Humanitarian: Sheikh Mohammed is noted for his philanthropic and humanitarian efforts in charitable giving. He has donated billions of dollars to various causes, including DH55 million to the UN Global Initiative to Fight Human Trafficking, and purchasing vaccines in Pakistan and Afghanistan.
Sustainable Development and Conservationist: Sheikh Mohammed has been a champion of sustainable development in Abu Dhabi as an advocate for the implementation of green technologies. He pledged $15 billion for the development of clean energy through solar, wind and hydrogen power. He is also a keen falconer and is committed to protecting falcons and other species in the region.