---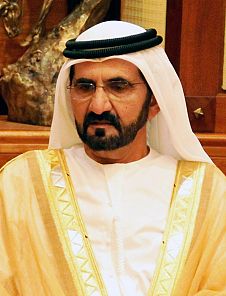 Mohammed bin Rashid Al-Maktoum
Prime Minister of UAE
Sheikh Mohammed bin Rashid Al-Maktoum is the constitutional monarch of Dubai, as well as the Prime Minister and Vice President of the United Arab Emirates. After taking a heavy hit during the financial crisis of 2007-2010, Dubai's economy is back in full swing, and stands out as a regional leader.
Birth: 12 July 1949 (Age: 68)
Source of Influence: Philanthropy, Charity & Development, Political
Influence: Philanthropy, Charity & Development, Political
School of Thought: Sunni
Status: Featured in current year
Philanthropist: He has launched multiple charity initiatives from Dubai, such as 'Dubai Cares', which has reached over 13 million beneficiaries in 39 developing countries since its inception in 2007. In 2008, Sheikh Mohammed launched 'Noor Dubai', an initiative helping one million people suffering from treatable blindness and visual impairment in developing countries.
Visionary: In 1995, as Crown Prince of Dubai, his chief objective was to make Dubai a resort and business destination. To that end, he helped develop the Palm Islands, the Burj Al-Arab hotel, the Burj Khalifa skyscraper, the Dubai World Cup and the Godolphin Stables. In June 2017, two new initiatives were added to the Mohammed Bin Rashid Al Maktoum Global Initiatives, the "International Institute for Tolerance" and the "Sheikh Mohammed Bin Rashid Award for Tolerance". In lieu of these efforts, Sheikh Mohammed issued a law forbidding discrimination among people on the basis of religion, sex, race, colour or language.
Arts: Al-Maktoum and his children are patrons of the arts, including participating in poetry competitions, as well as horse and camel racing. In addition to authoring poems in the traditional Nabati style, Sheikh Mohammed produced an electronic compilation of Arabic poetry that includes the work of 3000 poets spanning more than 3.5 million lines of poetry.