---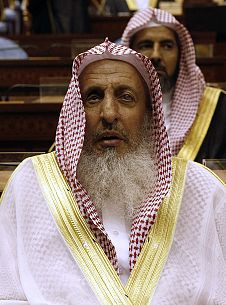 Abdul-Aziz ibn Abdullah Aal Al-Sheikh
Grand Mufti of the Kingdom of Saudi Arabia
As the Grand Mufti, Sheikh Abdul-Aziz ibn Abdullah Aal Al-Sheikh has the highest position of religious authority in the Kingdom of Saudi Arabia. He is an Islamic scholar based in Makkah and has influence as a leading cleric of the expansive global movement of Salafi Muslims.
Birth: 1 January 1943 (Age: 74)
Source of Influence: Preachers & Spiritual Guides, Scholarly
Influence: Grand Mufti to 30.8 million Saudi residents and the global network of Salafi Muslims
School of Thought: Salafi
Status: Featured in current year
Salafi Lineage: The Aal Al-Sheikh family in Saudi Arabia traditionally controls the religious and justice establishments. They are descended from Muhammad ibn Abdul Wahhab (1703–1792), the founder of Wahhabi and Salafi thought, and for 250 years have been closely associated and intermarried with the ruling Al-Saud family.
Head of Sunni Jurisprudential Committees: Sheikh Abdul-Aziz Aal Al-Sheikh is chairman of the Council of Senior Scholars, a scientific consultative commission composed of leading Sunni specialist scholars of Sharia (Islamic law). He has been behind fatwas that call for more rights for women and children.
Al-Sheikh is also chairman of the Permanent Committee for Islamic Research and Fatwas (religious edicts), a special committee designated for the researching and issuing of religious rulings and edicts on jurisprudence, the Hadith, and Aqida (creed) for the Sunni world.
As head of the Presidency for Scientific Research and Religious Edicts (Dar al Ifta), Al-Sheikh is often the spokesperson for controversial rulings issued from the Kingdom. He is recognized for his influence in enforcing a distinct view of Islamic tradition. In 2008, he publicly criticized Muslim televangelists who encouraged Muslims to celebrate birthdays and anniversaries—stressing, instead, that only the two occasions of 'Eid and the weekly Friday observations are valid occasions to celebrate. In this, and also in his condemnation of Turkish soap operas sweeping the Arab World, Al-Sheikh has stressed the importance of eliminating distracting practices. He is also ardently opposed to the practice of marrying off very young girls to older men, emphasizing its incongruence with human decency and Islamic tradition.
Central Figure of Global Salafi Movement: As Grand Mufti of the Kingdom of Saudi Arabia, Al-Sheikh is the leading religious figure of the Saudi-based network of Salafi Muslims. The rulings derived by Al-Sheikh are based heavily on a literal reading of the Qur'an and emphasize the need to strip away innovative cultural practices that have become a part of Muslims' lives. The movement he leads is characterized by an authoritative stance on Islamic religious practice.
Eminent Scholarship: Grand Mufti Al-Sheikh is recognized as a leading contemporary scholar of Islam. He has leveraged this influence by openly speaking out against Osama bin Laden and Al-Qaeda as entities that push a dangerous ideological terrorism. He spoke for the need for a war—to be fought by academics, the media, religious leaders and even parents—against deviant thought that leads overzealous Muslims toward extremism and violence. He has described DA'ISH as 'evil', and called them 'the number one enemy of Islam'.