---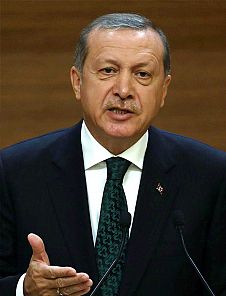 Recep Tayyip Erdogan
President of the Republic of Turkey
HE Recep Tayyip Erdogan was the Prime Minister of Turkey for 11 years, winning three consecutive elections with a majority, before becoming Turkey's first popularly-elected president in August 2014. During his three terms as Prime Minister, Turkey saw unprecedented economic growth, constitutional reform, and a re-emergence as a major global power.
Birth: 26 February 1954 (Age: 63)
Source of Influence: Political
Influence: President of 75.7 million Turkish citizens
School of Thought: Sunni, Traditional Sunni
Status: Featured in current year
The President: President Erdogan won 52% of the vote in Turkey's first direct elections for president. This was a continuation of his remarkable popularity and success at the ballot box over the past decade. During his time as president he has pushed aggressively for more powers for his post, a move not welcomed by all, and criticised by many as signs of wanting excessive power. He has lost support from key members of his own party, and been criticized for cracking down on the media. In April 2017, a constitutional referendum passed by a marginal vote which grants the President broader executive powers.
Failed Coup Ramifications: The failed coup of July 15, which led to about 200 deaths, has led to huge ramifications as Erdogan looks to root out all those involved. He has squarely laid the blame of orchestrating the coup on Gulen, and has led an all-out attack on Gulen's organisations and supporters.
There has been a major crackdown on many sectors with about 100,000 civil servants being dismissed in various state institutions, with over half from the education sector. Also, 20,000 people remain in detention with this number continually rising as authorities press ahead with regular raids.
Global Relations: Under Erdogan, Turkey has focused on building stronger relations with all of its seven land-contiguous neighbours (especially Greece) and also all of those countries bordering the Black Sea (an important trading hub and a geopolitically significant area). In Africa, it has opened up over twenty new embassies and consulates and when Somalia suffered from a crippling famine and drought in 2011, Erdogan not only gave aid, but also became the first leader from outside Africa to visit Somalia in nearly two decades. While Turkey has about 45% of its foreign trade with European countries, it is developing strong trade relations with other regions and attracting investment from all over the world. In January 2017, President Erdogan reiterated the "eternality" of Turkish presence in Cyprus, after receiving pressure to withdraw Turkish troops from the island.
Bait-and-Switch? In July 2015 Turkey finally declared war on Da'ish after an agreement with the US. It immediately proceeded to bomb sites in Iraq and Syria that it said were PKK sites. Turkey was consequently accused by the Kurds and by some US officials of a 'bait-and-switch' ploy, using Da'ish as bait to fight its old nemesis, the Kurds..
Challenges: Erdogan has been forced into a number of u-turns on both national and international issues; on its relationship with Israel, on its partnership with Russia, on how to contain DA'ISH, on how to deal with the Gulen movement, and on dissent within his own AKP movement. His dealings with these issues as well as the security of Turkey in the face of terrorist attacks are the major challenges facing him now.