---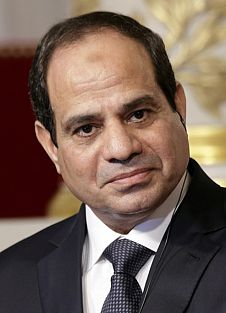 Abdel Fattah Saeed Al-Sisi
President of Egypt
Former Field Marshal Abdel Fattah Saeed Al-Sisi was sworn into office as President of Egypt on 8 June 2014, having earlier that year resigned from his post as the Commander in Chief of the Egyptian Armed Forces.
Birth: 19 November 1954 (Age: 62)
Source of Influence: Political
Influence: President of Egypt
School of Thought: Sunni, Traditional Sunni
Status: Featured in current year
Army: Sisi first came to public attention when then President Muhammed Al-Morsi of the Muslim Brotherhood retired the head of the Supreme Council of the Armed Forces ( SCAF) Mohamed Hussein Tantawi and promoted Sisi to take his place; to serve as the Commander-in-Chief as well as Minister of Defence in Morsi's new cabinet.
A Coup by Popular Demand: On June 30 2013, millions of Egyptians again took to the streets in large numbers demanding that Morsi step down. The military apparatus led by Sisi removed Morsi from power and banned the Muslim Brotherhood. Morsi supporters believed that the coup violated a democratically legitimate government, albeit a hugely polarizing and unpopular one. Outbreaks of violence ensued across Egypt that included the death of many hundreds of protesters at the hands of pro-military police at Raba'a Al-Adawiya Square in Cairo.
Presidential Expectations: Sisi has inherited a politically and economically battered Egypt, with a weak infrastructure, plummeting currency, and violent insurgency and unrest in Sinai. Under Sisi, Egypt has enjoyed excellent relations with members of the Arab League, most notably with Saudi Arabia and the UAE. Sisi supported the blockade on Qatar as well as the GCC-led military intervention in Yemen. He has publically supported the Asad regime in Syria and has called on the Palestinian people to make peace with Israel in his UNGA speech in September 2017, promising the Israeli people "Egypt's unwavering support."