---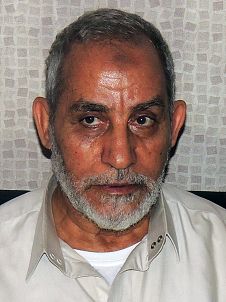 Mohammed Badie
Supreme Guide of the Muslim Brotherhood
Dr Mohammed Badie succeeded Mohammad Mahdi Akef as the 8th Supreme Guide of the Muslim Brotherhood in January 2010. Following the military coup against Morsi's leadership, he was one of many Muslim Brotherhood leaders arrested. Badie–whose son was shot dead during one of the counter-protests against the coup–was sentenced to death in April 2015 along with 13 other senior Muslim Brotherhood members. In 2017, the Cassation Court accepted the appeal of Badie and 49 other defendants against their death sentences. He is currently serving multiple life sentences in prison.
Birth: 21 August 1963 (Age: 54)
Source of Influence: Administration of Religious Affairs
Influence: Leader of a transnational movement in Egypt and across the Middle East, Africa, the UK, and US
School of Thought: Sunni, Muslim Brotherhood
Status: Featured in current year
Leader of an Expansive Muslim Network
Dr Badie is head of one of the oldest and largest Muslim social, religious, and political organisations in existence. The Muslim Brotherhood forms the leading opposition party in many Muslim countries and has branches in most of the Muslim world besides its base in Egypt. Members of the organisation can be found in Bahrain, Syria, Palestine, Israel, Jordan, Iran, Iraq, Saudi Arabia, Kuwait, Algeria, Sudan, Somalia, Tunisia, and Libya, as well as the United States.
Post-Morsi Era
Following the military coup against Morsi's leadership, many Muslim Brotherhood leaders were arrested. Badie, whose son was shot dead during one of the protests, is currently in prison on charges of 'inciting violence' during the protests that followed the ousting of the Freedom and Justice Party-dominated government, and attacks against police stations and churches in the Muslim Brotherhood strongholds in Upper Egypt that began immediately after security forces and the army had dispersed the massive pro-Morsi sit-in protests.
Imprisonment and banishment of Muslim Brotherhood leaders and members have been common occurrences that the Brotherhood has managed to endure throughout its history.